Super Easy

Screen Sharing and HD Video Conferencing

GlobalMeet® is the highest-quality, easiest-to-use audio, video and web conferencing solution on the market. Users have instant, one-click access to their own simple and intuitive meeting room from any browser, on any device, anytime.

Our simple service combines video conferencing, screen sharing and audio calls, at a low monthly price.
Global

Meet - Video & Web - €8.99 Per Month
Enjoy an unlimited number of video calls and screen sharing meetings per month
Invite up to 125 participants
Audio dial in over 60 countries 
Connect audio via your computer
24/7 customer support
See how our monthly plan compares to

, Zoom, Webex & Go To Meeting
Global

Meet
Zoom
Webex
Gotomeeting
€8.99 Per Month
€13.99 Per Month
€14.25 Per Month
€24.00 Per Month
125 Participants
100 Participants
50 Participants
10 Participants
Unlimited Number of Meetings
Limited Meetings
Limited Meetings
Limited Meetings
24/7 Customer Support
No Dedicated Support
No Dedicated Support
No Dedicated Support
Get all these Meeting

Features
Dial in. Connect Audio
your computer
Dial into the call or connect audio your computer
Simple screen
& File Sharing
Share your screen or files, give a presentation
Easy video calls
in HD
Easy face to face meetings, via your webcam
Microsoft Outlook
integration
Send your meeting invites through Microsoft Outlook
24/7/365 Local
Phone Support
Friendly, dependable, technical support via phone, chat, email 24/7
Invite up to
125 people
Invite up to 125 people to each meeting
Instant live Chat
Share ideas with instant live chat
Mobile apps
- phone or tablet
Join the meeting from, IOS, Android or Windows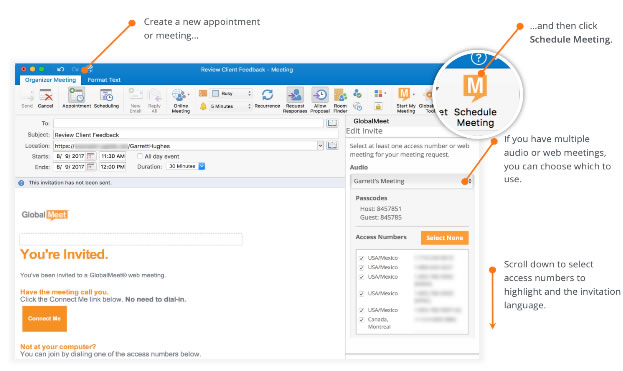 The
Global

Meet Outlook Plugin

The Globalmeet outlook calendar Plugin allows you to schedule, manage and start your meetings directly from within your Microsoft Outlook calendar